I'm betting that more than a few people I know will relate to this. I actually have four 'book lists': to research, to be bought, to be read (the list), to be read (the pile).

Here's a glimpse at April's pile for me.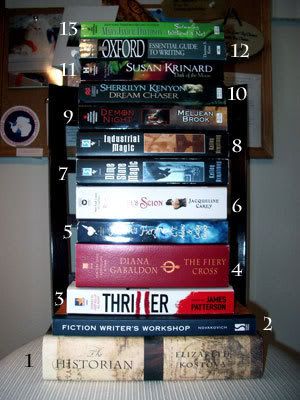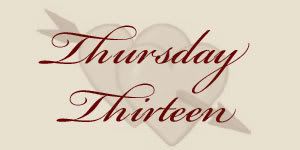 Gwen's April/May TBR Pile

1.

The Historian, Elizabeth Kostova

- recommended and loaned by my father in law.


2.

Fiction Writing Workshop, Josip Novakovich

- for my workshop with Cat on the WR Board.


3. An anthology of thriller short stories, to get my feet wet in that genre.


4.

The Fiery Cross, Diana Gabaldon

- this is the fifth book in the Outlander series, which I absolutely love. Looking forward to snuggling up with this one over my coming business trip.


5.

Moon's Fury, CT Adams and Cathy Clamp

- I try to spread my paranormal/urban fantasy genre reading around various publishers. This is Tor/Forge.


6.

Kushiel's Scion, Jacqueline Carey

- This is the fourth book in a series. I loved the original trilogy and the friends I've recommended it to have gone on to read the later books and recommended them to me, so I'm looking forward to this one too.

7.

Dime Store Magic, Kelley Armstrong

- A new name in paranormal for me, recommended by a friend who doesn't normally read paranormals. This Canadian author is published in the US through Bantam Books.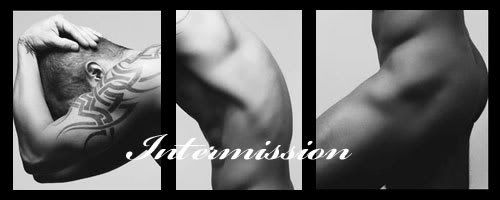 8.

Industrial Magic, Kelley Armstrong

- I was instructed to read both books. =)


9.

Demon Night, Meljean Brook

- I went on to the girls a while back how Meljean was my new hero. I hadn't read anything of hers yet, now I have, and I re-certify: she's my hero. Obvioulsy, I cheated and read this one already. Review will be coming.


10.

Dream Chaser, Sherrilyn Kenyon -

I have been meaning to read something of hers forever. I'm looking forward to checking out this very successful author, published through St. Martin's.


11.

Dark of the Moon, Susan Krinard

- I am hitting Harlequin titles hard over the next couple of months, this was my first toe in the pond. I read this one too. Review to come.


12. I picked up a pocket version of the Oxford Essential Guide to Writing. I do actually plan to read it. Bits and pieces at a time.


13.

Swimming Without a Net, MaryJanice Davidson

- I read a story of hers in a recent anthology, and really liked it, so when I spotted this on a fellow bookworm's shelf, I snatched it up. Now, don't go thinking I'm just a clepto who takes books out of people's houses. I traded it for some lasagna.
Get the Thursday Thirteen code here!
The purpose of the meme is to get to know everyone who participates a little bit better every Thursday. Visiting fellow Thirteeners is encouraged! If you participate, leave the link to your Thirteen in others comments. It's easy, and fun! Be sure to update your Thirteen with links that are left for you, as well! I will link to everyone who participates and leaves a link to their 13 things. Trackbacks, pings, comment links accepted!