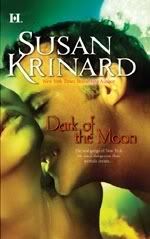 My hubby picked this title up at the grocery store for me, as he is want to do when he sees anything that has vampires on the cover or implies it in the title. I had never heard of Susan Krinard, but a google search revealed that she's been very prolific and successful, AND since hubby knew I was scoping Nocturne Bites, he takes credit for this book being from Harlequin, even if he didn't know it at the time.

The premise of this book immediately caught my interest - 1920s reporter in New York investigates murders at the pier and gets sucked into a hidden world she didn't know existed.

The back cover reads:
During the heyday of the Clan, New York's vampire organization of gangsters and bootleggers, Dorian Black was an enforcer for the notorious boss Raoul Boucher. But when the Clan is shattered by violence and betrayal, Dorian abandons his old ways and is prepared to die for his sins … until he saves the life of a brave and determined woman reporter, Gwen Murphy.
Gwen realizes at once that there is something very unusual about Dorian Black. She's drawn to the haunted suffering in his eyes as well as to his strength and sexual allure. But he hides secrets that lie dangerously close to the ones she is pursuing for the New York Sentinel. Soon human and vampire must join forces and come to terms with their growing attraction as they battle warring vampire factions and a fanatical cult bent on changing their world forever…
Read an excerpt.
It says "I'm dark, I'm angsty, and Gwen will love me." It really does. And overall, I did. After all - Gwen Murphy - Gwen Mitchell - c'mon - she's got good taste in names! It wasn't what I expected - which, I suppose, is a good thing. If it turned out exactly as I'd expected, I'd probably call it predictable.
Loved the characters. Gwen was the strong, determined career woman, way ahead of her time - someone I could really get behind, with admirable qualities, like her brains and her loyalty to her friends. Dorian was the ultimate tortured hero. And I'd like to emphasize this point. One of the things I appreciated the most about the story was how true Dorian's character rang for me. His progress was slow. Painfully slow. And instead of the typical 'oh, well she loves me and I get sex on a regular basis so I'm fine now' solution to the tortured hero, Ms. Krinard kept it real. Thank you!! His feelings for Gwen are unwanted at first, and even when he realizes that he's in too deep, they complicate things, and in some ways make them worse, not better. It made for great angsty conflict that kept me turning the pages.
I also loved that the story kept me guessing. There were so many 'who done it?' moments where I just wasn't sure who the bad guys were, or what they really wanted. Conflicts abounded - both internal and external. Lots of double-triple-crossing, and each time I thought I had nailed it, she proved me wrong. I pride myself on my ability to guess what's going to happen - so Ms. Krinard gets extra credit for that.
Normally, I'm not in the 'if it doesn't have an HEA, it's not romance' club, but I have to say, I feared for these beloved characters. It started to look very dire indeed and I was worried. Glad to say everything worked out in the end. I enjoyed the writing, and the story was well-paced and entertaining. But I give this one a higher rating, simply because I haven't cared that deeply about characters in a long time. Four Bleeding Hearts.