I've got a lot on my plate at the moment, so I decided to steal a quick idea from Gina and put the TT I had planned on the agenda for next week. Happy Thursday!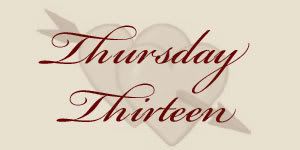 If your life were a movie, what would the soundtrack be?



Open your music library (iTunes, winamp, media player, iPod). Put it on shuffle. Press play. For every section, type the song that's playing. Next section : press the next button. Don't lie and try to pretend you're cool. Play it as it comes up.


1. Opening Credits: Watermark by Enya (I love this song. It is what I strive for in my life - peaceful, balanced, heartfelt. Cool.)

2. Waking Up: Sonata No. 9 in D Major by Mozart (If I was a morning person - I could see this happening, but it's more like Beethoven's Moonlight Sonata in reality. I sorta

slither

out of bed.)

3. Falling in Love: One More Night by Phil Collins (Ah! It's so angsty and eighties and sweet! That's totally me in love. I love Phil.)

4. Breaking Up: The Logical Song by Supertramp (Okay - this is getting creepy now.)

5. Life's Okay: What's Going to Happen Tomorrow by Duran Duran ("You've got to believe, it will be alright in the end." Did I mention this is creepy?)

6. Mental Breakdown: Here Comes the Sun by The Beatles (Okay, this is one of my all time favorite songs. The only way I can associate it with a mental breakdown is if it were drug-induced, or this is AFTER the breakdown, or if when I finally lost it, it was in a very happy, free-spirited way. *g*)

7. Flashback: Talkin' Bout a Revolution by Tracy Chapman (It could work. It's a sad song, but it could be a flashback for the more down and out times of my life, I suppose.)

8. Getting Back Together: Don't Let the Sun Go Down On Me by Sir Elton John (This totally works! Creepy again.)

9. Wedding: All I Need by Mat Kearney (It's not your typical wedding song, but I like it. It could work. Still romantic, in a way.)

10. Birth of Child: These Dreams by Heart (Can you say 'Epidural'?)

11. Final Battle: Breakfast In Bed by Nicole Kea (Fifty First Dates Soundtrack) (Apparently, my final battle will be pretty easy going - set to steel drum music. =P)

12. Death Scene: Have You Ever Really Loved a Woman by Bryan Adams (Aww... *sniffle*)

13. Ending Credits: Hello, Goodbye by The Beatles

(Haha! I love it. It's perfect. There was bound to be two Beatles songs - I have so much of it. But this is the perfect non-sensical go against the grain song to define me.)



Okay, that really was fun, actually. Thanks Gina!
Get the Thursday Thirteen code here!
The purpose of the meme is to get to know everyone who participates a little bit better every Thursday. Visiting fellow Thirteeners is encouraged! If you participate, leave the link to your Thirteen in others comments. It's easy, and fun! Be sure to update your Thirteen with links that are left for you, as well! I will link to everyone who participates and leaves a link to their 13 things. Trackbacks, pings, comment links accepted!

Leave a comment, and I'll link back to you here:
Kaige
Rhonda Stapleton
A. Catherine Noon
Shelley Munro
~Liz~
Tempest Knight at the MMC
Susan Helene Gottfried
Brenda ND
Gina Ardito
Tara S. Nichols
Debbie Mumford
Eden
Kathleen Oxley