But I still think it's true.
I don't know about you guys/gals, but I *LOVE* Google. So much that I've decided to do an 'Ode to Google'. But don't worry - that's not what this is. That will get tossed on my ever-growing WIP pile.
Instead, I'll share something that Google helps me with. I'm a student of philosophy. So, I'm always on the lookout for quotes. You never know when you can use something someone else said to back you up. And, truth be told, there are many billions of people more eloquent than I that have come before - so why not stand on the shoulders of genius, right? Heh.
That's why I love Google. I have 28 Google Notebooks - various collections of things, but one of them is a list of quotes I encounter that strike me. I've dug up thirteen of them for you this week. =)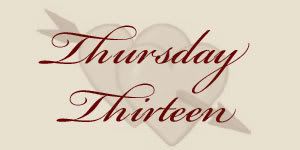 1.

"

Chance favors the prepared mind

."
~

Louis Pasteur





2.

"

A moral being is one who is capable of reflecting on his past actions and their motives - of approving of some and disapproving of others.

"
~

Charles Darwin





3.

"

Well-timed silence hath more eloquence than speech.

"
~

Martin Fraquhar Tupper





4.

"

A wonderful fact to reflect upon, that every human

creature is constituted to be that profound secret and mystery to every

other.

"
~

Charles Dickens





5.

"

The whole secret of life is to be interested in one thing profoundly and in a thousand things well.

"
~ Horace Walpole

6. "

There are two kinds of light--the glow that illuminates, and the glare that obscures.

"
~ James Thurber

7. "Do not fear to be eccentric in opinion, for every opinion now accepted was once eccentric."
~ Bertrand Russell

8. "

The end of the human race will be that it will eventually die of civilization.

"
~

Ralph Waldo Emerson





9.

"

Out of suffering have emerged the strongest souls; the most massive characters are seared with scars.

"
~

Kahlil Gibran





10.

"

The longest journey of any person is the journey inward

."
~

Dag Hammerskjvld





11.

"

Affection is responsible for nine-tenths of whatever solid and durable happiness there is in our lives.

"
~

C.S. Lewis





12.

"

An absolutely new idea is one of the rarest things known to man

."
~

Thomas More





13.

"

Imagination will often carry us to worlds that never were. But without it we go nowhere

."
~

Carl Sagan
Get the Thursday Thirteen code here!
The purpose of the meme is to get to know everyone who participates a little bit better every Thursday. Visiting fellow Thirteeners is encouraged! If you participate, leave the link to your Thirteen in others comments. It's easy, and fun! Be sure to update your Thirteen with links that are left for you, as well! I will link to everyone who participates and leaves a link to their 13 things. Trackbacks, pings, comment links accepted!

Leave a comment, and I'll link back to you here: