It's that time again. This week, I have a series of quotes that have become everyday turns of phrase, at least to me and my dorky friends. I hope the pictures work this time. They're linked from photobucket, so if they're slow, you might just need to refresh. Happy TT everybody!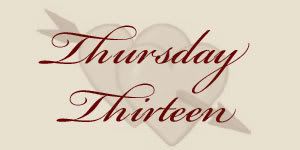 Famous Movie Quotes - In order of year.



"I don't drink . . . blood."
- Dracula


"Frankly my dear, I don't give a damn."

- Gone With the Wind



"Here's lookin' at you, kid."

- Casablanca


"I'm walkin' here!"

-Midnight Cowboy


"Do you feel lucky?"

-Dirty Harry


"I'm gonna make him an offer he can't refuse."

-The Godfather


"You talkin' to me?"

-Taxi Driver

"May the force be with you."

-Star Wars


"They're here."

-Poltergeist


"I'll be back."

-Terminator


"You can't handle the truth!"

-A Few Good Men



"Stupid is as stupid does."

-Forrest Gump


"Show me the money!"

-Jerry McGuire


Get the Thursday Thirteen code here!
The purpose of the meme is to get to know everyone who participates a little bit better every Thursday. Visiting fellow Thirteeners is encouraged! If you participate, leave the link to your Thirteen in others comments. It's easy, and fun! Be sure to update your Thirteen with links that are left for you, as well! I will link to everyone who participates and leaves a link to their 13 things. Trackbacks, pings, comment links accepted!
Leave your TT url in a comment, and I'll link back to you here: